Here is a list of our current Suffolk Good Neighbour Network networking, learning & support opportunities, why not take a look and book your free places now, they are open to existing Good Neighbours, community support volunteers or those out in the community interested to find out more!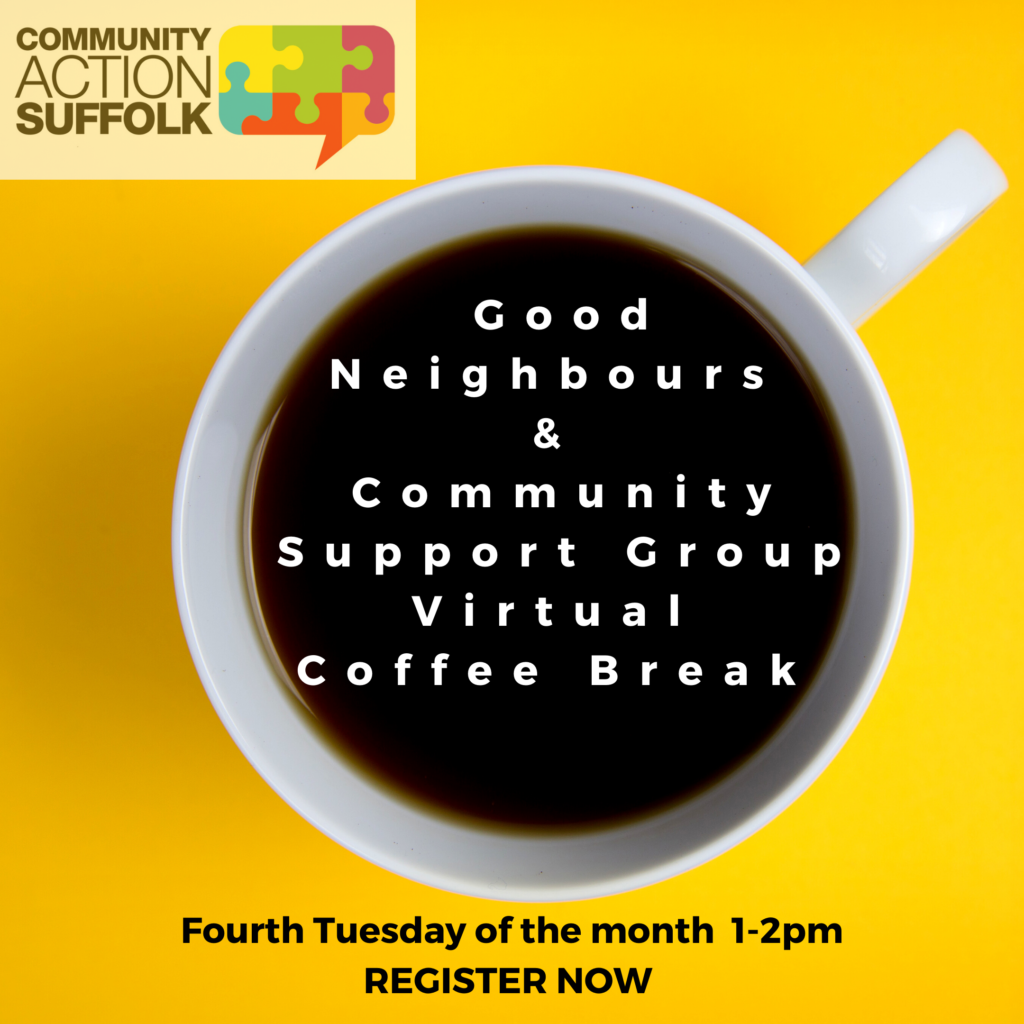 Fancy a virtual cuppa, a chat and maybe a bit of networking?
Join us for a relaxed virtual coffee break via Zoom to have a friendly chat about your group's activities, to share your positive community news, meet others in the same boat, and to help troubleshoot and problem solve challenges together! So, whether you are already volunteering in your community, interested in getting involved, already a Good Neighbour, or are part of a community response or Mutual Aid group – you are all welcome!
Tuesday 22nd June 1-2pm BOOK HERE
Tuesday 27th July 1-2pm BOOK HERE

Dementia Friends – Helping to create dementia friendly communities, supporting residents and volunteers!
Free online live Dementia Friends Sessions for Good Neighbour & Community Support Volunteers available to book in June & July
Dementia Friends is an Alzheimer's Society led initiative which aims to increase dementia awareness and change the way the nation thinks, talks and acts about dementia. Dementia Friends sessions are really useful for Good Neighbour Scheme and community support volunteers, as you are fairly likely at some point to come into contact with or be supporting residents who live in your community with Dementia.
A Dementia Friend is someone who has attended a one hour information session and has committed to an action that will make the lives of people living with dementia a little bit better. Anyone of any age can be a Dementia Friend and every action counts – from helping someone to find the right bus to spreading the word about dementia on social media.
Our Online Dementia Friends Sessions will be hosted by local Sue Ryder Dementia Navigators, one of which is also a local Good Neighbour Scheme volunteer herself.
Sessions will take place via Zoom and should take approximately 1 hour, but we allow a bit of extra time at the end to cover any questions participants might have. Our group sizes are limited, so do share with your volunteers and encourage them to book soon if they'd like to take part!
Thursday 24th June 2-3.30pm – BOOK HERE
Thursday 1st July 6-7.30pm – BOOK HERE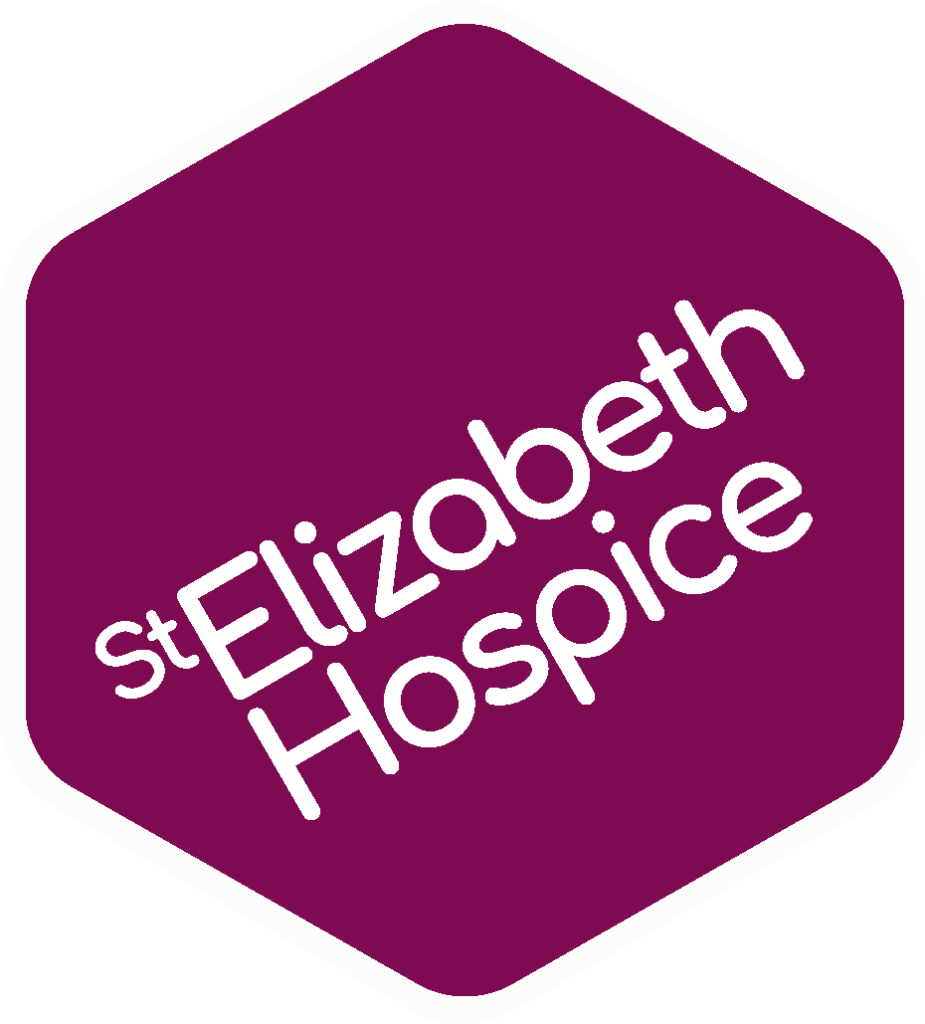 Suffolk Good Neighbour Network Q&A: Integrating a Compassionate Community approach information session
Thursday 28th July 7-8pm
BOOK HERE: https://crm.communityactionsuffolk.org.uk/civicrm/event/info?id=1827
This presentation and Q&A session will explore how St Elizabeth Hospice and Suffolk Good Neighbours Schemes & community support groups can help communities improve local end-of-life care and bereavement support, with a Compassionate Communities approach.
We believe that a Compassionate Community can make a positive impact on end-of-life care and bereavement support by promoting and supporting kindness, friendship and a collaborative approach to caring for one another at times of health crisis and personal loss.
And by helping people grow the skills, knowledge, and networks to support each other before and after end-of-life, our friends, family, neighbours, and colleagues will be better able to cope with the impacts of serious illness, caregiving, and bereavement in the future.
For more information before this interactive session please visit www.stelizabethhospice.org.uk/compassion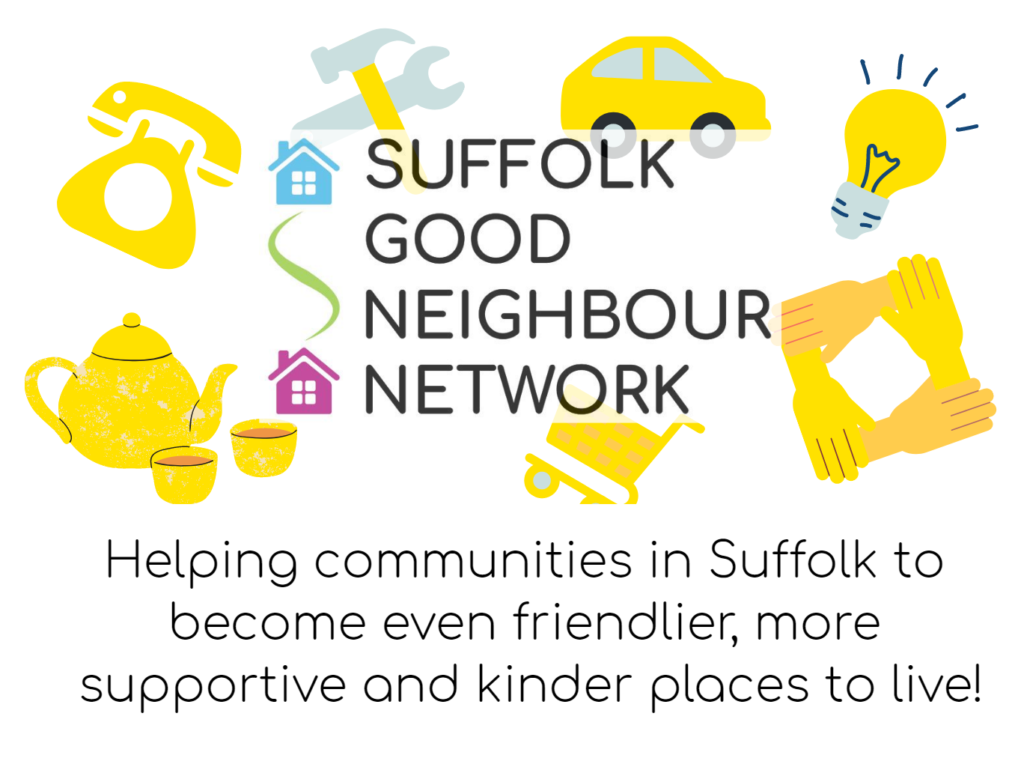 The Suffolk Good Neighbour Network offers your scheme or group support, resources and good practice, opportunities to take part in learning & support sessions, and networking to connect with other groups and Good Neighbour volunteers across the county. Our SGNN Development Officer Jane, is always delighted to hear from community members and groups interested in creating a new scheme, joining the Network as their existing group, or simply considering their next steps.
Why not take a look at our www.SuffolkGoodNeighbours.co.uk website, or get in touch and arrange a time to chat with Jane Arkley-Crouch our SGNN Development Officer, email jane.arkley-crouch@communityactionsuffolk.org.uk or call on 01473 345429.