A lovely new fund has now opened that is especially to help mutual aid and community groups join the Suffolk Good Neighbour Network by ensuring they have enough funds to set up safely and easily; grants of up to £1500 are available. To help those who may be interested, Suffolk Community Foundation & Community Action Suffolk have setup some webinars for people to come and join if they wish to find out more, please scroll down for further info and links.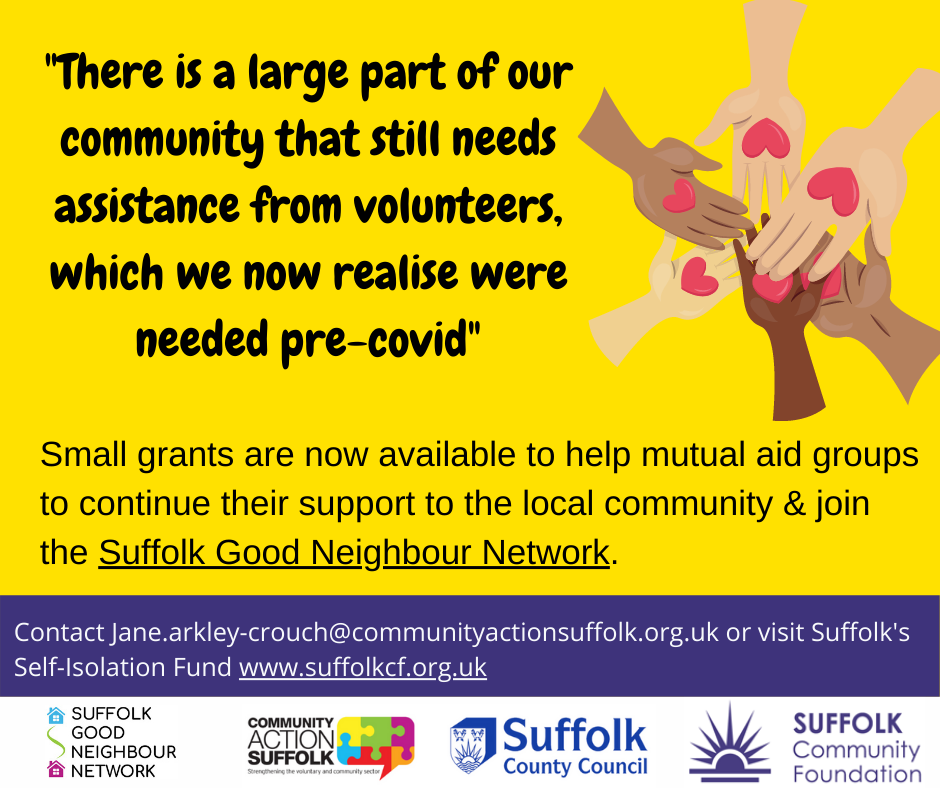 Webinar details
If you would like to discuss the Community Support Grant fund or the Suffolk Good Neighbour Network then please join Jane – Community Action Suffolk and Suffolk Community Foundation for a 30 minute webinar on one of the following dates (more may be added soon dependent on demand):
Friday 9th July 11.30am
Friday 9th July 3pm
Wednesday 14th July 4.30pm
Friday 16th July 1.30pm
Tuesday 27th July 5pm
Monday 2nd August 11.30am
Thursday 5th August 6pm
Thursday 12th August 9.30am
Email grants@suffolkcf.org.uk to register your interest and a Teams invite will be forwarded.
Here is the link to Suffolk Community Foundation's website – https://www.suffolkcf.org.uk/grants/communitysupportgrant/
More information about the Suffolk Good Neighbour Network can be found here in our pages on this website.