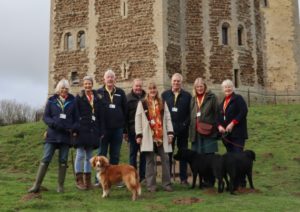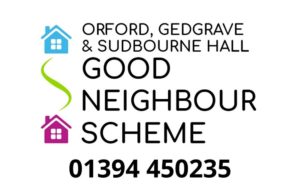 What our Good Neighbour Scheme offers:
Friendship and companionship
Transport and support with GP and hospital appointments (currently on hold due to Covid-19)
Shopping
Dog walking / feeding pets
Form filling and help with technology
Minor household repairs
One-off garden tidy
A healthy meal
Other activities as requested and agreed
'Coffee and Chat' on Thursday afternoons between 1.30 and 3.30pm. Currently on hold due to Covid-19.
A little bit about us…
Looking out for your neighbours is part of life in the rural community of Orford – but what if your neighbours are holiday lets?

In a changing community with fewer full-time residents, some have worried about keeping alive the very life blood of Orford – its community spirit. When local GP Lindsey Crockett enthused about the success of the Good Neighbour Scheme at nearby Hollesley it struck a chord.

From a group of keen residents a working committee of three was formed after a visit from Community Action Suffolk's Good Neighbour Scheme Development Officer Jane Arkley-Crouch, and with her support the committee conducted a survey with printing funded by the Orford Flower Show, this survey proved a need for the new community service.

The scheme became a reality with generous financial support from local charity New Orford Town Trust and the support and expertise of Community Action Suffolk (CAS). Now, under six months later, there are thirty lovely volunteers ready to help their neighbours with everyday tasks from transport to and from medical appointments and befriending to a healthy hot meal or help with form filling – things a good neighbour might do.

Small rural communities face inevitable changes and challenges. In Orford GP appointments may be in a neighbouring surgery 10 miles away, so help with transport is needed. There is the ever-present risk that homes may be flooded if our river walls are breached and overtopped. The Good Neighbour Scheme is there to help Orford meet these challenges and continue to be a thriving resilient community where people know each other and help each other out.
We respond quickly to changing circumstances and requirements. For example, when Covid-19 was starting to spread early in March 2020 we adapted our services to best support the community and communicated these changes to every household by March 15th. This meant we were well prepared when lockdown came in on March 23rd.
We are a friendly bunch and we welcome new volunteers.